E3S provides specialized eyetracking solutions that add deep insights and unique objectivity to a multitude of areas in human behavior research.
The products include specially designed eye tracking and touch based communication devices and software.
Multi-purpose HeadBand for operating room
The headband can be attached to a support (here below an helmet with occipital adjustment). Different versions of the headband (HB) are possible depending on their uses : 
Basic version for the block nurse.
basic version for the surgeon.
premium version for the surgeon, including an eyetracker.
Help the nurse to count the number of gauzes used during the operation. The system records or streams what the nurse does. Data are processed off-line by a dedicated gauze counting software.
The system includes a wide-angle camera  that can be manually oriented towards the operating field by the nurse (in black). A microphone and a headphone for optional communication can be provided.  A battery and a microcontroller provide the electrical autonomy of the device (in red). The video capture solution is a wireless stream, based on the use of independent Wi-Fi transceivers (therefore independent from the local Wi-Fi network and its faults).
A servo motor connected to the camera and the microcontroller enables the camera's viewing angle to be corrected remotely. This correction can be made wirelessly to keep the user's serialisation.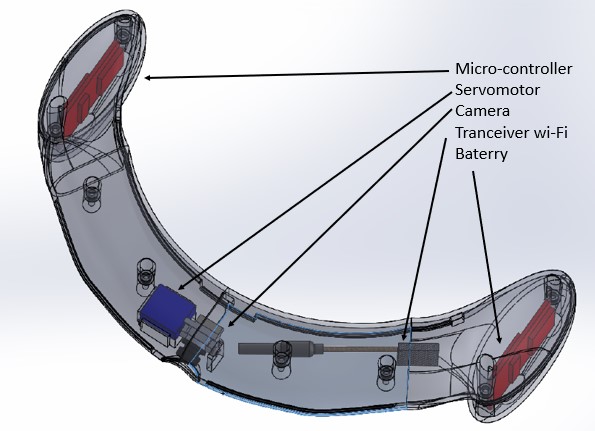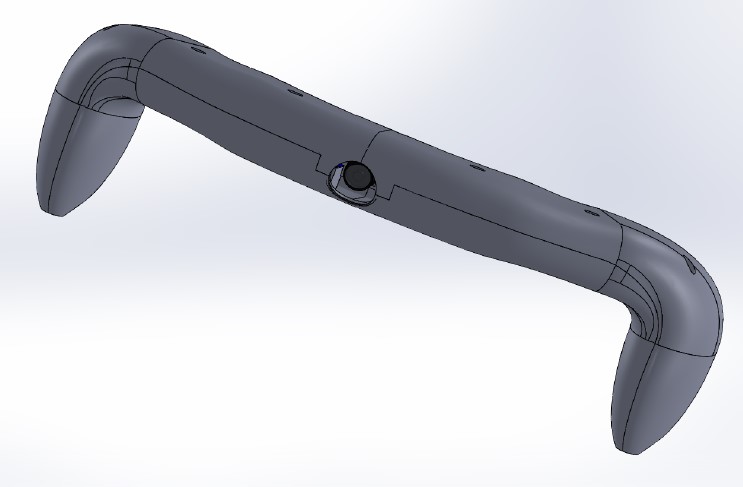 This version allows remote assistance (telementoring).
It ensures the capture of what the surgeon sees and facilitates communication with the expert surgeon (tutor).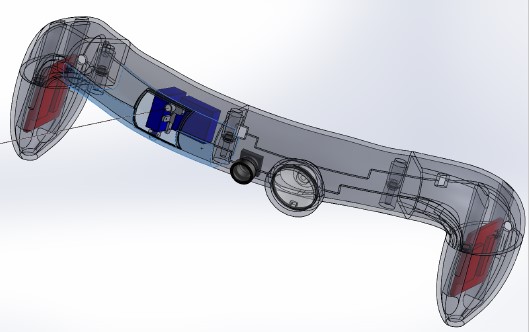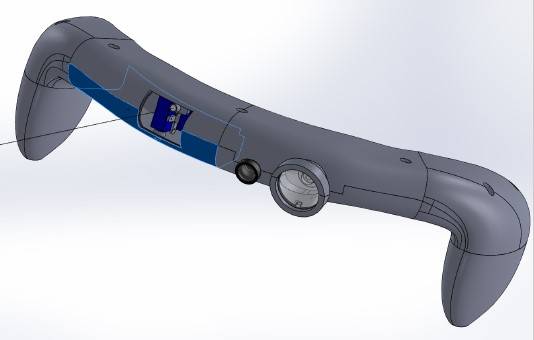 The device includes 2 fixed cameras (in black): one wide-angle camera for taking a view of the operating field and one with a small angle of view (focus) and high resolution centered on the surgeon's fixation point. The video stream from the cameras is either locally recorded or streamed. A laser pointer or an holographic target motorized in pan and tilt (green and blue) and remotely controllable by the tutoring surgeon, allowing him to assign points of interest or to project in IR a test pattern stimulating the luminescence of hepatobiliary tissues.
A source of lighting (LED) for the area of interest of the surgeon (between the 2 cameras). The focus cameras and lighting can be manually positioned to adjust them to the surgeon's point of view. A communication system, microphone and headphone allows communication between the surgeons and a bot of artificial intelligence.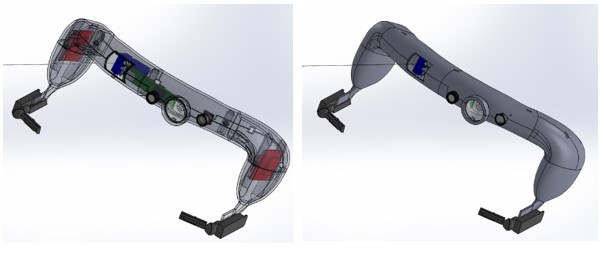 This model is based on the previous one and adds an oculometer. It allows the surgeon's gaze to be followed in the operating room and the pointers to be controlled by the direction of the gaze. It allows the measurement of the surgeon's PERFOS.
Surgeon version with a LED (right) or a red laser pointer (left) on.